(Delaware and Chester Counties, PA)—Delaware County Community College President Dr. L. Joy Gates Black joined Governor Tom Wolf and many other officials for a tour yesterday of private shipbuilder Philly Shipyard, Inc.'s (PSI) facilities to highlight manufacturing and maritime workforce training, such as the welding program offered free to students by PSI and the College, via the Collegiate Consortium for Workforce & Economic Development.
Standing in front of the PSI Training Academy at the Navy Yard Business Park, Governor Wolf thanked PSI and College officials for their strategic use of a $1.1 million Pennsylvania Manufacturing Training-to-Career program grant they received last year that enables them to train workers in high-demand occupations such as welding and shipbuilding.
"Pennsylvania has long been a manufacturing powerhouse. Our resources have helped to build and secure this nation," said Governor Wolf. "These investments, like we see in action at Philly Shipyard today, are a down payment on our successful future." In Pennsylvania, manufacturing is big business. It employs nearly 10 percent of Pennsylvania's workforce and accounts for 11.42 percent of economic output, according to the Governor's office. Governor Wolf said manufacturing also gives people a good career set of options and provides good family-sustaining wage jobs.
In close partnership, PSI, the College and the Collegiate Consortium are using the state grant to develop training in the many facets of shipbuilding, as well as an 80-hour training program in Flux-Cored Arc Welding (FCAW) leading to industry-recognized certification and employment at PSI for graduates who qualify. The training is free to students, who normally would have had to spend thousands of dollars on tuition, books and equipment. To qualify for the FCAW training students must have had previous formal welding instruction and worked as a welder for at least three years.
"As we continue to increase our workforce, we have found a number of candidates who wanted to work for the shipyard but just did not have enough experience or certifications to meet the minimum requirements of the positions," said PSI Human Resources Vice President Michael Giantomaso. "We worked with Delaware County Community College to assist us in getting these candidates the necessary training to complete the certifications and begin working at the yard."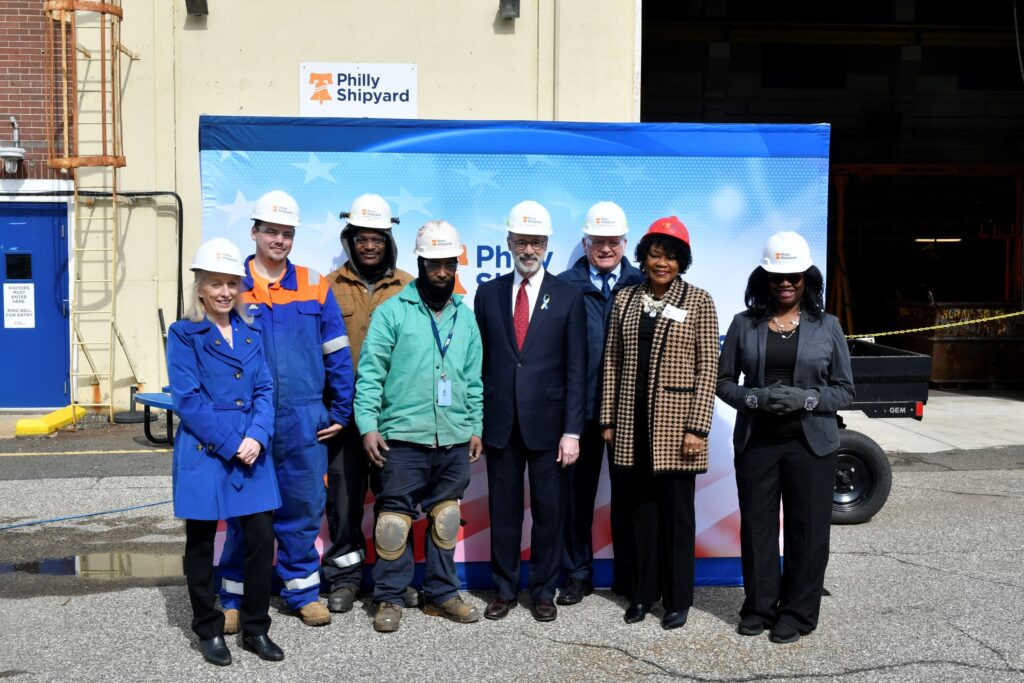 Joining Governor Wolf and Dr. Gates Black on a portion of the PSI tour yesterday were three graduates of the FCAW training program: Eric Parker, 30; Richard Parker, 35; and Curtis Carr, 46. All three graduates praised the program, especially for its ability to train in ceramic welding, a skill they had been unfamiliar with before the program.
"The state funding from the Manufacturing Training-to-Career program has enabled us to respond to a critical need for skilled welders that will support shipbuilding at Philly Shipyard," said Dr. Gates Black. "Delaware County Community College, as part of the Collegiate Consortium for Workforce and Economic Development, a partnership consisting of the regional community colleges and Drexel University, works in close partnership with employers, like Philly Shipyard, to meet the skilled workforce needs of business and industry in Greater Philadelphia."
During a break in the tour, PSI President/CEO Steinar Nerbovik, told reporters gathered at the tour site that people should apply for shipbuilding jobs at PSI. "As of today, I would like to have 200 more shipbuilders in my yard. We have 1,100. I would like to have 200 more. So, I am asking any kid, any grown up who wants to build ships to get with us in the Navy Yard. Please contact us. It is a fantastic place to work."
Delaware County Community College and the Collegiate Consortium have a long history of working with the maritime industry. Last year, the College was selected as one of only 27 institutions nationwide by the U.S. Department of Transportation's Maritime Administration as a 2021-2022 Center of Excellence for Domestic Maritime Workforce Training and Education (CoE). "The CoE designation recognizes the tremendous value that your institution provides to our nation by developing and preparing students for demanding careers in our vitally important maritime industry," said Acting Maritime Administrator Lucinda Lessley, in a letter to Dr. Gates Black.
About Delaware County Community College
For more than 50 years, Delaware County Community College has served as the center of educational opportunity for residents of Delaware and Chester Counties. Students find affordable, open admission to higher education and can earn Associate of Arts (A.A.), Associate of Fine Arts (A.F.A.), Associate of Science (A.S.), or Associate of Applied Science (A.A.S.) degrees. The College's comprehensive programs offer high school dual enrollment and transfer options to four-year colleges and universities; prepare students for direct entry into the workforce; award professional certificates; and provide career advancement and lifelong learning opportunities. The College serves a diverse population of 16,000 credit and non-credit students each year. Visit www.dccc.edu for more information.